October 20, 2012'

21:30 NPT -
Pinch me !

Tim checks in from Pokalde base camp. He tells me that he is so blown away by the view here and that it's hard to focus on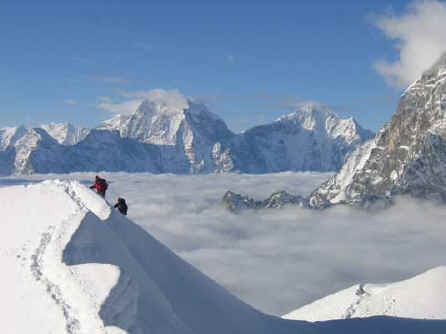 climbing and he needs to pinch himself from time to time to make sure it's not all one big beautiful dream. He can see both the Khumbu Valley and Makalu valley, he can see Makalu, Ama Dablam, and the entire Himalayan kingdom it seems like from here. They're surrounded by beautiful lakes and their camp location is comfortable, flat and meadow like. He's very pleased with what they've found for climbing here. Great ice, the glacier, a big vertical rock wall and the route to the summit of Pokalde is all a rock this time of year.
The team is now down to just "Triple Crown" climbers, trekkers are now in Kathmandu and Island Peak climbers are making their way to Lukla for a flight on Tuesday or maybe even Monday to Kathmandu.
Today the TC climbers climbed ice, did glacier rope rescue work and got out on the rock. The team is small now so Tim got all our staff including kitchen and porters out on the rope doing some climbing. The camp crew never get to do this so it was a very rewarding day for all, they had a blast!
Tomorrow morning they will climb to the summit of Pokalde (5806m), the last 50m or so they will be fixing the route with rope, it's four hours up and four down. The next day the team will push on to Lobuche East base camp for the third objective of this expedition.
Tim is giddy, he's loving this - no one except for them here, breathtaking views and a great climbing mix. We are happy that this inaugural expedition is working out so well managing to side step the crowded trails and routes and exploring new playgrounds.
Can't wait for those photos to share!!!! You can see on SPOT where they are and how they got there... Becky
Photo: View from Island Peter Noble (Peak Freaks Island Peak) 2011'