October 13, 2012'

Island Peak Base Camp-
Training Camp today
After breakfast we said good-bye to the Everest Base Camp team who will make their way to Lobuche, they'll be tucked in behind the Island
Peak team who will be spending the night at Gorak Shep tonight. Tomorrow morning the Island Peak team will make a summit bid on Kala Pattar and retreat back around the valley to Dingboche where we will once again get radio contact. We are in two different valley's right now so it's a dark zone for communications tonight.
Puja.... we had Puja today, Jangbu Sherpa and Ang Nima Sherpa preformed the ritual for us and did a really good job. Both have a great deal of experience on this in their villages, I was impressed!
Tomorrow morning the trek team will move up to make a summit push on Kala Pattar which puts them in a position to take those world class photos of Everest and the Khumbu ice-fall. The next day they will push up to Everest Base Camp and tag the ice-fall, snap that photo and then begin their retreat back down the valley over the next few days.
The Triple Crown team had a great day today going through mountain skills reviews including anchor building, belaying, rappelling and other skills. Tomorrow we'll get into some crevasse rescue and other rope work on a route here I'm looking at. Soon the Island Peak team will be back and we'll form two teams and climb Island Peak together. Everyone is looking forward to a rendezvous back at base camp in a day or two.
It's pretty chilly at night -10c so I won't linger long on communications, I will now stick my head back in my sleeping bag for some zzzzz's. Everyone is doing well... over and out.. Tim
Photo: Spot Track - IP base camp
October 12, 2012'
Island Peak Base Camp- 4900m
The Everest Training team and Everest Base Camp group have all arrived safe and sound at our Island Peak base camp. It's chilly up here so the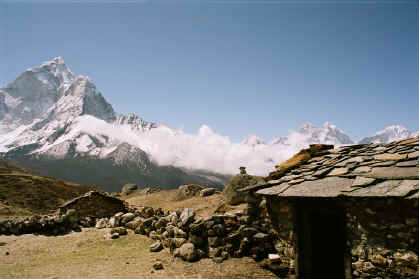 stove was much appreciated to huddle around this evening. Tomorrow we will have a puja blessing, then I'll be picking up some garbage that hasn't been monitored here by the parks people that funds are paid to to keep an eye on things so this doesn't happen. The rest of the day will be exactly that "rest" allowing everyone's bodies to adjust.
Next day the Everest Base Camp trekkers will continue their trek up to Kala Pattar and Everest Base Camp. The Island Peak team is in Lobuche tonight, they will climb Kala Pattar the day after and then show up here to occupy our Island Peak camp before making their summit push from here.
The "Triple Crown" team will start working on the mountain day after tomorrow. Everything is going as planned and the weather is holding nicely. Cool and clear.... over and out
from base camp.... Tim
October 10, 2012'
Happy in Dingboche (4412m)
This is always a fun day as we reunite as one team again after splitting up yesterday. Our base camp trek team enjoyed a morning chant with
the monks in Tengboche while the two climbing teams met with our long time friend Lama Ghese in his home in Pangboche for his blessing to our expeditions. Tonight we are all gathered once again at the lodge at 4412m snacking on smoked salmon treats I brought from home and sharing stories of events and sights that everyone enjoyed on the trail today. All is good except for the wireless seems to be sending our photos into cyberspace, as well the satellite signal seems to be having some difficulties this year. Oh well, the only thing that really matters is that everyone is having a wonderful time and are doing really well with the altitude and staying healthy and having tons of fun.
Tomorrow I'll be working with the Island Peak team on mountaineering skills review while the Triple Crown team heads up the adjacent peak for some altitude gain with Tashi Sherpa. The Base Camp team will also do their hike up to a higher elevation to help with acclimatization. The teams will all feel tired by days end tomorrow and the excitement of climbing something starts to kick in now. Over and out .. Tim
Photo: Our base camp support team + Facebook upload (will try again tomorrow)
October 8, 2012'
Acclimatization day success!
Beautiful day here in the Himalayas! Today we trekked up to Khunde and Khumjung (3840m) gaining new heights allowing our bodies to adjust to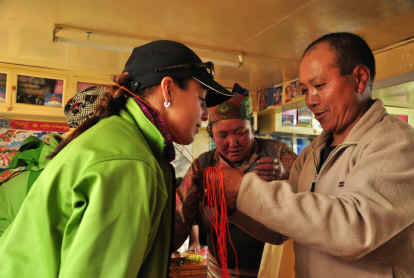 the new altitude gain we will make tomorrow. We hike high and sleep low to kick things into gear and I'm pleased, everyone is did really well. The trail is quiet and the sun is warm. We had lunch at Ang Nima and Kami-Rita's house and were given red strings and kata scarves offering protection throughout our journey.
Tomorrow we move up to Tengboche Monastery (3867m) to check in on the monks there for a little chant. The groups will make a brief split here, trekkers will spend the night in the lovely lodge down my the river in Debouche and the climbers will push ahead to Pangboche (3901m) and then the next day we will all gather again in Dingboche (4412m). This is where things start to get exciting, both due to the altitude and the training agenda begins.
Our Canadian climbers did not miss out on Thanksgiving dinner after all, tonight Tsedam and his family got things going in the kitchen and roasted us some chickens accompanied with mashed potatoes and steamed vegetables. They even tried to find us a pumpkin but were unsuccessful so we had a chocolate pie instead, yummy!! Our vegetarian participants were also very pleased with what came out of the kitchen for them in honor of Canada's Thanksgiving celebration.
Just a heads up that we are on track with the SPOT tracker so you can follow our footsteps, we are also gathering each evening to send out some photos, they are being posted on my Facebook, log on and subscribe to see them. There are links to both at the top of this page.
October 5, 2012

-
We have a window.
.
.. Thank goodness the skies have opened showing us signs that the monsoon is now pushing out of the Himalayas. We are on schedule flying out first thing in the morning so it's an early night here in the capital city of Kathmandu. Everyone is shopped out and packed up and already having a great time together, it will only get better from here on out. I'll report back when we arrive in Lukla tomorrow morning. Over and out .. Tim
HERE WE ARE!